Falmouth Shore Excursion: Blue Hole Tour
Caribbean » Jamaica » Saint James Parish » Montego Bay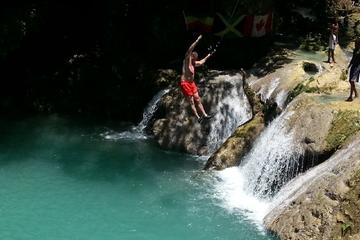 Duration: Flexible
Departs: Montego Bay, Jamaica
Price from USD 90.00
Book Now
Your adventure starts as soon as you leave the Falmouth cruise ship port traveling along the newly built North Coast Highway to see the famous Luminous Lagoon-only four of its kind in the world. The tour takes you through local communities with a stop at the historical Columbus Park to view where Columbus landed when he first visited Jamaica in 1494.
Cool Blue Hole is rated as the top attraction in Ocho Rios. This 20-foot cascading waterfall is like a hidden treasure waiting to be discover. The blue misty water is deep enough for an exciting cliff jumps and diving. The Cool Blue Hole also has a Tarzan rope swing which makes the Blue Hole fun and exciting for all ages.
Once you arrive at the falls you will be introduced to the guides that will navigate you on the excursion and ensure your safety. Enjoy nature in paradise at the Blue Hole. You can swim in the blue hole, climb in the caves backwards, jump off cliffs, rope swing or just enjoy a good body massage in the water. Make sure to get some memorable photographs. Your time at the blue hole is approximately one hour.
« All Activities