Falmouth Shore Excursion: Blue Hole and Secret Falls Express plus Shopping
Caribbean » Jamaica » Trelawny Parish » Falmouth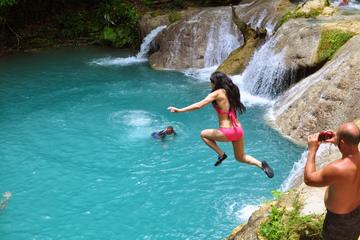 Duration: 6 hours
Departs: Falmouth, Jamaica
Price from USD 69.00
Book Now
Enjoy a fantastic shore excursion to Jamaica's famous Blue Hole and Secret Falls which is a must do! This special tour takes you east along the north coast of Jamaica. There is a brief rest stop at Columbus Park, in Discovery Bay. At Blue Hole there is swimming, diving, Tarzan ropes and hiking. The second portion of the tour will include shopping in Ocho Rios, and an authentic Jamaican jerk lunch at Scotchies Outdoor Garden Restaurant!
Meet your friendly and professional tour guide at the designated meeting point near the Falmouth cruise ship port
. Once you board the clean, air-conditioned bus you will travel east towards the north coast until you reach Ocho Rios. Along the way, your guide will give you loads of information about the beautiful island of Jamaica. You will be in awe as you look at the breathtaking coastline. There will be rest stops along the way including a 15-minute stop at Columbus Park in Runaway Bay.
After the scenic drive you will head to Blue Hole and Secret Falls just in time to meet your waterfalls knowledgeable guide who will be your best friend for the next two hours until the end of the activity. Unspoiled, the Blue Hole oasis offers an array natural beauty and fun. Take in the gorgeous bright blue water in the natural mineral pool surrounded by lush, tropical rainforest. Have a blast jumping off the edge into the deep pool, swinging on Tarzan ropes, or swimming up under the caves. Then, there will be a 5-minute hike through the woods to the amazing Secret Falls where can allow the cascading waters to hug you while you take amazing photo shots.
After an electrifying experience at the waterfalls you will be taken to do hassle-free shopping in Ocho Rios. Search for souvenirs, rums, coffee, T-shirts and more! Once your shopping is complete, you will be taken to lunch at Scotchies Outdoor Garden Restaurant. Enjoy an authentic Jamaican jerk chicken and pork lunch for an additional cost.
After lunch you will be transported back to the Falmouth cruise ship port.
« All Activities