Falmouth Shore Excursion: Braco Stables Horseback Ride and Swim
Caribbean » Jamaica » Falmouth » Falmouth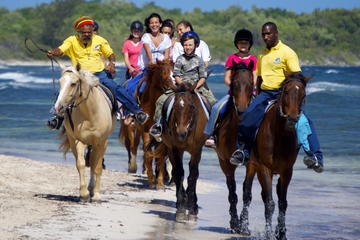 Duration: 4 hours
Departs: Falmouth, Jamaica
Price from USD 180.00
Book Now
An equestrian experience for the whole family. This horseback tour is the best experience in Falmouth. Meander down to the north coast shoreline and ride on a private and beautiful beach area. All skill-levels are welcome!
The Braco Stables horseback tour is an enjoyable 2-hour ride with accomplished and trained guides who will select a horse to suit your riding ability.The ride commences from the stables and you are taken through the scenic countryside, passing tranquil farmlands of the locals living close by. The friendly and humorous guides give a narration of the scenery and area telling the story of Jamaica. There is even an old abandoned airstrip, which was built during the 2nd World War and was later used for smuggling of marijuana "ganja".

The trail ride meanders down to the north coast shoreline and takes you to a private and beautiful beach area. Here guests are given the opportunity to swim bareback and frolic with the horse in the magnificent Caribbean Sea. The sea is crystal clear and white sands allow for great swimming and picture taking opportunities.

The ride concludes by the gardens brimming with pimento trees, bougainvillea and fishtail palms. Lounge with a cool drink from the gazebo and spy on the hummingbirds gossiping with the orchids. Come sample the hospitality and the beauty of Trelawny, Jamaica.
« All Activities