Falmouth Shore Excursion: Dunn's River Falls and White River Tubing
Caribbean » Jamaica » Falmouth » Falmouth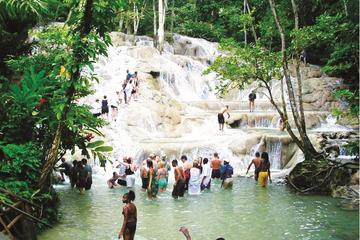 Duration: 6 hours
Departs: Falmouth, Jamaica
Price from USD 94.00
Book Now
For the same price, enjoy private or shared group shore excursions to climb the famous 600-foot Dunn's River Falls. Create memories with your waterproof camera as you join hands with fellow climbers and plunge into the many cool pools you will encounter along way. Then journey to the famous White River to board your inflated tubes as you glide down the lazy river, while taking in the amazing scenery and lush tropical greenery.
After pickup from the Falmouth cruise ship pier, head to Dunn's River Falls.When you arrive, begin the upward climb of over 600 feet o the top. Join hands with your fellow climbers, as your local guide shows yo the best route over the rocks. Make sure to bring your waterproof camera and waterproof shoes (they are also available for rent). Your guide will be happy to take your photo along the way at one of the many cool plunge pools you'll encounter as you journey upwards.

After Dunn's River falls, you will make your way to the head waters of Jamaica's famous White River. Upon arrival to the White River, begin your river tubing adventure! There are bathrooms, changing rooms, and life jackets available at the beginning of the tour. During your trip down river you will travel through 7 rapids to the midway stop where you can swim, drink a cold beer, or enjoy a complimentary fruit punch. There are bathroom facilities at this stop as well.

Glide through lush tropical greenery and take in the amazing scenery as you gently wind down the lazy river. This is a journey that you will not forget. Your driver, will safe guard your belongings during the trip, and will meet you at the end of your ride.

The river tubing adventure lasts approximately 1 hour and 15 minutes, depending on the time you spend at the midway stop. This tour is guided, with two guides leading groups from 5-15 people. After the day out exploring some of Jamaica's most natural wonders, head back to the Falmouith port.
« All Activities