Falmouth Shore Excursion: Private Zipline Adventure
Caribbean » Jamaica » Falmouth » Falmouth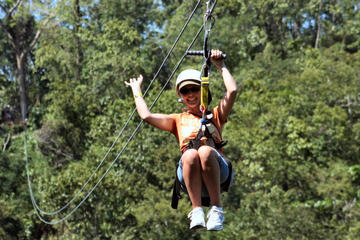 Duration: Flexible
Departs: Falmouth, Jamaica
Price from USD 155.00
Book Now
This private tour includes personalized pick up from your driver at the pier for your day in Jamaica! Visit a zipline park, on the way your driver will show you sites of interest. Upon your return, your driver will stop at Scotchies or another popular jerk spot for lunch.
Your private tour begins the moment you arrive in port, with pick-up from one of our professional, friendly drivers. Enjoy an hour scenic drive, on route, the Caribbean Sea is so close you feel you can almost touch it! Your drive continues leisurely up a hill where you will pass through sleepy villages and may past kids going to school or locals doing their washing. Hevans Scent Ziplines is located in Priory about 2000 ft up with a view across the green fields of St. Ann, the garden parish.

Upon your arrival, enjoy a natural fruit drink from fruits in season, served in a calabash cup. Once you have been harnessed and given your safety instructions, it is on to your first of 5 rides. You do have the option of doing some or all rides. Your time here will be approximately 1 hour amidst the mountains of Ochi's luscious location.

Whether you want a short sharp scare, a gentle soar....or something that will make you scream (with joy), this tour has got you covered. The 5 ziplines (including the longest in the island) all designed to help you feel like a bird as you soar through the mountains of Jamaica.

Your driver will then descend the hill and take you to Scotchies or another popular jerk stop where you can have lunch and relax with a cold Red Stripe before heading back to pier. A perfect adventure of singles, couples and families.
« All Activities