Falmouth Shore Excursion: River Tubing and Beach Tour
Caribbean » Jamaica » Falmouth » Falmouth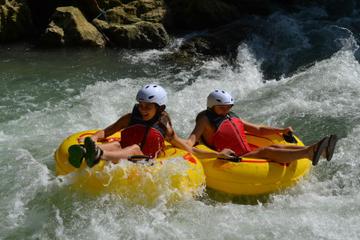 Duration: Flexible
Departs: Falmouth, Jamaica
Price from USD 125.00
Book Now
Enjoy this Falmouth shore excursion to the Rio Bueno River and Private Beach. Let a professional guide show you the fun and relaxation that can be found in beautiful Jamaica. Your driver will then take you to Discovery Bay for lunch at a popular Jerk Center
before returning to port!
This exhilarating tour takes you to the refreshing waters of the Rio Bueno River in Jamaica. First you check-in and put on your safety gear. Enjoy breathtaking waterfalls, fun river pools and rapids among other fun activities! All tours are led by professionally trained and certified guides who not only ensure your safety but also allow you enjoy yourself to the fullest! Your tour includes tubing but you will also have the option of rafting, kayaking, or river boarding (at an extra cost) then afterwards you can relax with a cool refreshing Red Stripe Beer on the private beach!

After a few more rapids the river currents start to slow down and you begin your boat ride/tubing (weather permitting) into the Caribbean Sea. Your ride takes you to a private beach , where you can enjoy a refreshing drink, take a dip in the sea, and view some of the cool pics taken by one of the photographers.

The next stop will be at a popular jerk stop in Discovery Bay where you can enjoy jerk chicken, pork and other delicious, authentic Jamaican foods. Your driver will ensure your timely return to port. Time permitting and at your request, your driver may make stops to purchase souvenirs to take back home. This tour is perfect for singles, couples or families with children age 8 years and over!
« All Activities