Jamaica Paintball Adventure in Falmouth
Caribbean » Jamaica » Falmouth » Falmouth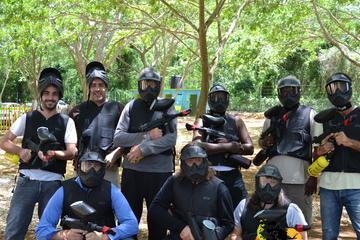 Duration: 90 minutes
Departs: Falmouth, Jamaica
Price from USD 54.99
Book Now
Need to relieve some stress? Channel your inner action hero and 'pow-pow-pow!' your way through the woodlands of Falmouth with a paintball marker. After a safety briefing, get fitted into the necessary equipment and for 90 minutes, make your way through fox holes, trenches and blockades in an outdoor facility ideal for players of all levels. Sign up for one of two packages: Paintball Adventure (ages 14 and up) or Splatmaster (ages 8 to 13), which offers low-impact colorful paint-ammo that washes off easily. Let the paint-bath begin!
Engage in the ultimate game of 'fight or flight' during a paintball adventure in the dense woodlands of Falmouth, minutes away from the pier and Montego Bay. Head to the paintball course dressed in the recommended wear of jeans, a long-sleeve shirt and sneakers. You must be at least 14 to participate in the Paintball Adventure; children 8 to 13 can find thrills with Splatmaster (see below).

Paintball Adventure (ages 14 and up)
Upon arrival, a marshal greets you and provides a safety briefing and an orientation to the fully outfitted outdoor facility. You'll be given a paintball marker with a compressed air canister, 100 paintballs, and mask gear to protect your face and ears. The course is designed for beginner and advanced players alike, so feel free to ask the friendly staff questions or request help at any time.

For 90 minutes, take no prisoners as you work with a team to strategize, move forward and win. Feel your heart beat faster and adrenaline pumping blood to your extremities as you hit or run. Hide in fox holes, stalk your opponents and conduct surprise attacks as you duel to the paint-death in games like Capture the Flag, Last Man Standing or Last Team Standing. Take a turn in acting as Team Leader, and have fun exercising authority; if it all goes wrong, no worries, it'll make for a good story down the road. Out of game ideas? Consult the marshal for additional scenarios to play out.
Afterward, cool off with provided refreshments as you exchange your battle gear for civilian clothes.

Splatmaster (ages 8 to 13)
If your have younger ones in your group, turn this paintball adventure into a family outing. This child-friendly package offers the same complete safety briefing, orientation and 90-minute access to the paintball facility as above; it also gives parents peace of mind by providing kids with markers containing low-impact bright-colored paint-ammo, which can be washed off with water later on. Instead of pow-pow-pow, hear a satisfying splat! upon contact.

After 90 minutes of lighthearted hostility, return your gear and equipment. Take a few moments to relax your adrenaline-fueled body, and perhaps purchase refreshments or souvenirs at the on-site shop, before returning to your hotel.
« All Activities