Montego Bay Shore Excursion: Zipline and Jungle River Tubing
Caribbean » Jamaica » Montego Bay » Montego Bay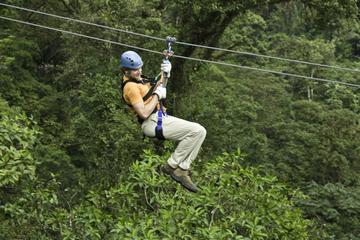 Duration: 6 hours
Departs: Montego Bay, Jamaica
Price from USD 146.23
Book Now
Ready to soar like a bird from tree to tree in a rain forest? Come enjoy an amazing shore excursion to the cool hills of Lethe to experience the thrill of the longest zipline in the Caribbean. There are 5 ziplines, varying in length from 250 feet to the amazing Big Timba at 1,600-feet. You will get a bird's-eye view of the rain forest as you zip your way from one platform to the next.


Then allow nature to pamper you. Enjoy a scenic river tube float that will take you on a 2-mile journey full of fun and excitement Feast your eyes on the countless flora and fauna all around you!
Meet your friendly and professional tour guide at the designated meeting point near the Montego Bay cruise ship port where you will board a mini-van/bus. Your tour guide will brief you on the day's proceedings while educating you on some Jamaican history. As the bus makes its way to Lethe, feel free to participate in the discussion by asking all the questions you have whether it is cultural, religious, political or otherwise.

You will be in awe! As the trip takes you along the north coast of Jamaica your eyes cannot escape the amazing coastline and ocean with an array of colors and crystal clear water. When the bus reaches the town of Reading it will make its way up through Longhill's lush, green rainforest until it reaches approximately 1500 feet. A little way further and you will arrive in the lush, green Lethe Valley where the river tubing is located. There you sign a waiver and a receive a brief orientation before you are separated in small groups of about 6-8 people and assigned a river guide. As you make your way down the Great River there are areas that are faster than others so feel free to take photos, take a swim, or enjoy the fresh organic fruits that hang over the river. The exciting trip down the river will last approved 1 hour and 30 minutes.

At the end of the tubing adventure there will be a 15-minute rest before you begin the zipline portion. While you get harnessed in you will be given a brief orientation for the zipline canopy adventure. Feel free to purchase drinks and snacks while you wait to board the jungle jeep that is waiting to take you to the first of five platforms in the mountains. Some lines are faster than others so be prepared to expel tons of adrenaline as you make your way through the trees. The total time spent on the zipline canopy will be approximately 1 hour and 45 minutes.

After your zipline adventure is complete you will taken back to the Montego Bay cruise ship port.
« All Activities