Shore Excursion: Negril Private DayTour from Falmouth
Caribbean » Jamaica » Falmouth » Falmouth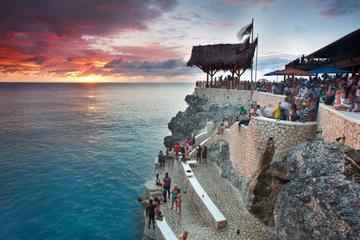 Duration: 7 hours
Departs: Falmouth, Jamaica
Price from USD 95.00
Book Now
There is so much more to Negril than Seven Mile Beach! This tour is perfect for small or large groups! Enjoy hanging out at Jimmy Buffet's famous Margaritaville and see interesting sights such as the famous 200 year old water wheel and the ruins of an old British Military Base. Negril's picturesque coast is lined with towering cliffs and bustling beaches.
On this tour, experience the beauty and tranquility of uninterrupted white sand beaches and savor the warm Caribbean sun as you release all inhibitions!
After your pier pickup you will enjoy a drive along a scenic coastline until we reach the first stop at the Tryall Water Wheel, a 200-year-old cast iron water wheel steeped in history. The second stop will be at
the ruins of an old British Military Base.
We then spend a few hours at the Negril Beach hanging out Jimmy Buffet's Margaritaville! Here you can participate in an array of water sports activities like water trampolines or simply enjoy the ocean or relax on the white sand beach. The crystal-clear turquoise water is well protected by numerous reefs and is free of rocks or undertow. You can also grab a drink or bite to eat at the restaurant and tiki bar.

We then make our way to Rick's Café, driving through a small village called 'Red Ground". Driving through the village will give you a close-up look at a traditional Negril community, in true Jamaican style. At Rick's Café enjoy a live reggae band as you watch spectacular Jamaican, daring cliff divers.
« All Activities